To the greens
Active holidays
Straight from breakfast to the golf course?
This is not a dream, but reality at the IMLAUER Hotel Schloss Pichlarn. One of the most beautiful golf courses in Austria is right on the doorstep of the romantic hideaway in the heart of the Ennstal. Founded in 1972, the golf course at the IMLAUER Hotel Schloss Pichlarn is a magnet for golfers from all over the world.
18-hole golf course right beside the hotel

A total of 55 hectares of Alpine terrain

Naturally landscaped with hills, valleys and forests

Around 208 meters of altitude & 10 kilometers per lap

"Restaurant 19" right on the golf course
"Golf Academy" to get to know each other and deepen your know-how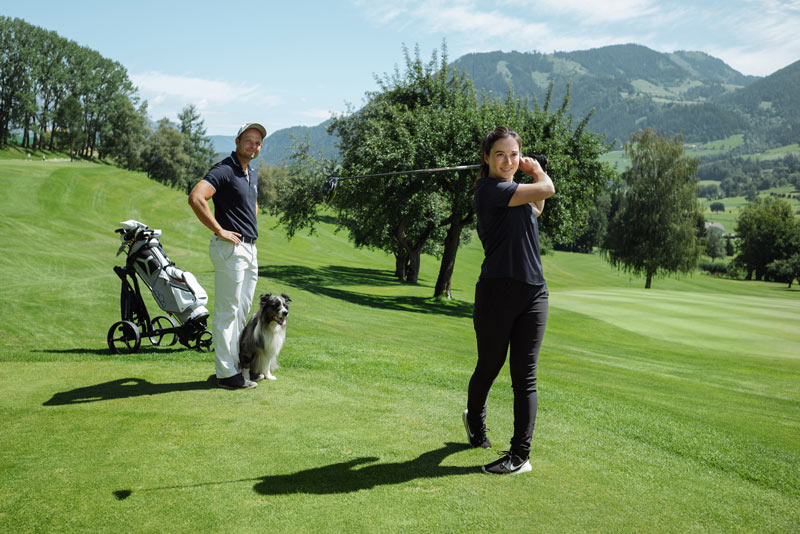 Golf with a dog
Man's best friend as a good luck charm
and support may with on the golf course.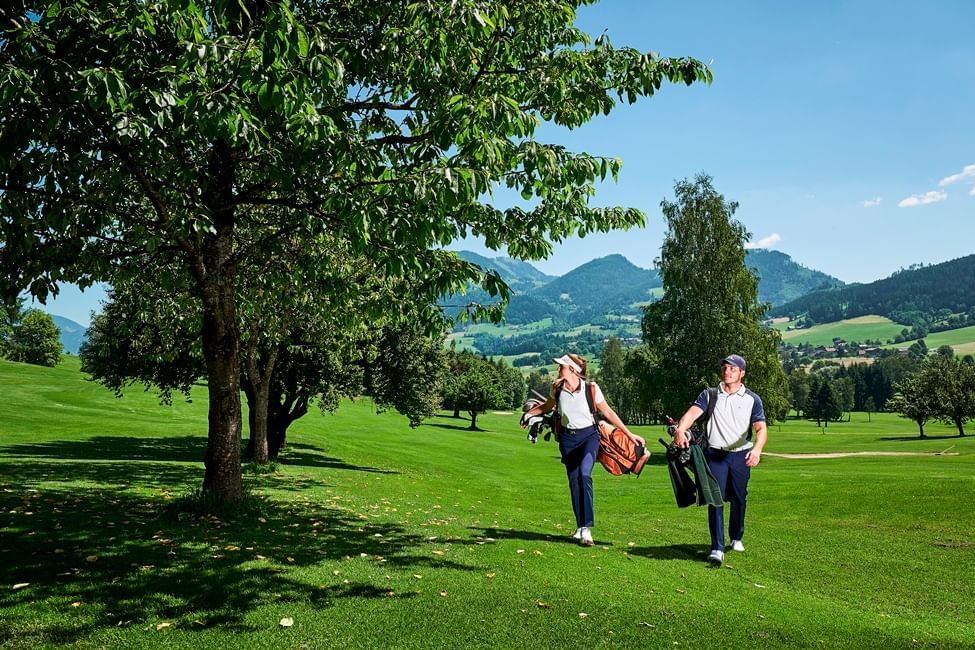 Your game in nature
Enjoy complete tranquility and the
view of the surrounding landscape.
Insights in the video
Golf at its best
Alpine golf course
surrounded by natural beauty
Our 18-hole golf course offers heavenly views from its location on a small hill. The view sweeps from the Grimming mountain to the jagged limestone peaks of the Gesäuse. The tranquillity and the unique landscape make your round of golf an experience for body, mind and soul. The varied topography of our golf course is particularly attractive. You cover around 280 metres in altitude and almost ten kilometres during a game that lasts around four hours.
You tee the ball, you focus; one more glance towards the green; it's pleasantly quiet, only the wind whispers softly in the nearby woods. The flight waits anxiously a few steps away. You grip the club tighter, breathe in and – tee off! Later after a challenging and enjoyable round, you take a culinary break at the "19th hole", our Restaurant 19. Enjoy a glass of wine or a cold beer, and perhaps have a bite to eat and end the day in good company. That's golfing at the IMLAUER Hotel Schloss Pichlarn.
Get (even) better with our pro
Would you like to hone your style or immerse yourself in the multifaceted world of golf alongside a professional coach?
The pro at the IMLAUER Hotel Schloss Pichlarn will be happy to support you with individual lessons tailored to your needs. You will also get good advice in our Pro Shop, where you'll find everything related to golf.
Sustainability
wherever you look
The rough is characterised by forest, meadows and ponds. We only use water from our own springs to irrigate the course, and we use organic products to maintain it. You might spot one or two animal residents during your round of golf. Sustainability is also our top priority: we keep our ecological footprint as small as possible. After all, the grounds are also the habitat for many animals. Whether deer or hare, buzzard or squirrel, geese or swans: they all find a retreat in our 55-hectare grounds.
Speaking of animals: your dog is also very welcome on our golf course!
As a guest
Cheaper on the green
Daily green fee 18-hole:

€ 65.00

Daily green fee 9-hole:

€ 45.00
Sunset-Greenfee
from 16:30 o'clock:

€ 65.00
18-hole-green fee
April & November:

€ 45.00

9-hole-greenfee
April & November:

€ 25.00
Day-Greenfee Youth
(until 18 years):

€ 25.00

Seniors-Greenfee
(Mon. & Wed. mornings):

€ 65.00
18-hole-eCar:

€ 40.00

9-hole-eCar:

€ 25.00
Greenfee-Pass 7 days:

€ 490.00

Greenfee-Pass 14 days:

€ 890.00
Partner golf courses
around the castle
Golf region Schladming-Dachstein
Rabit or tournament player?
Whether you're a rabit or a tournament player, the different difficulty levels on the course, the driving range and the putting green offer everything for both beginners and professionals!
Yearly membership for hotel guests
Your long distance membership at Golf & Country Club Schloss Pichlarn
As a hotel guest at the IMLAUER Hotel Schloss Pichlarn you have the opportunity to become a member of the Golf & Country Club Schloss Pichlarn.
You benefit from exclusive advantages:
Entitlement to play at the Golf & Country Club Schloss Pichlarn only when staying at the IMLAUER Hotel Schloss Pichlarn.
Handicap management at Golf & Country Club Schloss Pichlarn on request
Club card – official membership card of the Austrian and European Golf Association
Ordinary membership in the Golf & Country Club Schloss Pichlarn
Unlimited use of the driving range
No voting rights at the general meeting
450 € per person per year plus fees (ÖGV, StgV, liability insurance)
"In addition to the Alpine charm of the course, it is the tranquillity and wildly romantic beauty that make our golf course something very special."
Johannes Baltl-Einhauer
Golf Manager
Company tournament packages at IMLAUER Hotel Schloss Pichlarn
Pleasure, fun and sporting performance. The IMLAUER Hotel Schloss Pichlarn and the associated 18-hole golf couurse are predestined for your golf tournament.
Tournament packages
We are looking forward to hearing from you!