What do you feel like today?
An enjoyable meal in the Restaurant Zirbe, which has been awarded with a toque and two Forks? Savouring international classics on the large sun terrace of the Restaurant Pichlarn? Or stopping off for a hearty Alpine ox burger and a beer after a round of golf in Restaurant 19?
It doesn't matter which restaurant you choose at the IMLAUER Hotel Schloss Pichlarn: the region always plays a main role. The ingredients come mainly from farmers and producers in the vicinity, such as trout from the neighbouring Trautenfels or highland beef from Unterburg-Pürgg. Last but not least, the country estate belonging to the hotel supplies fresh ingredients for your enjoyment: organic eggs from our own chickens, salads from our greenhouse, as well as aromatic herbs and juicy apples. Finally, the kitchen team around Executive Chef Gottfried Prall ensures that the pleasureful components are served as true culinary delights.
Restaurant Pichlarn
& Roter Salon
Genießen im ungezwungen­en Rahmen
– that's the motto of the Restaurant Pichlarn and the Roter Salon. Located on the south side and equipped with a large, covered sun terrace, spending time here is always a pleasure. Because the start of the day contributes significantly to how the day turns out, our Pichlarn Gourmet Breakfast is something very special.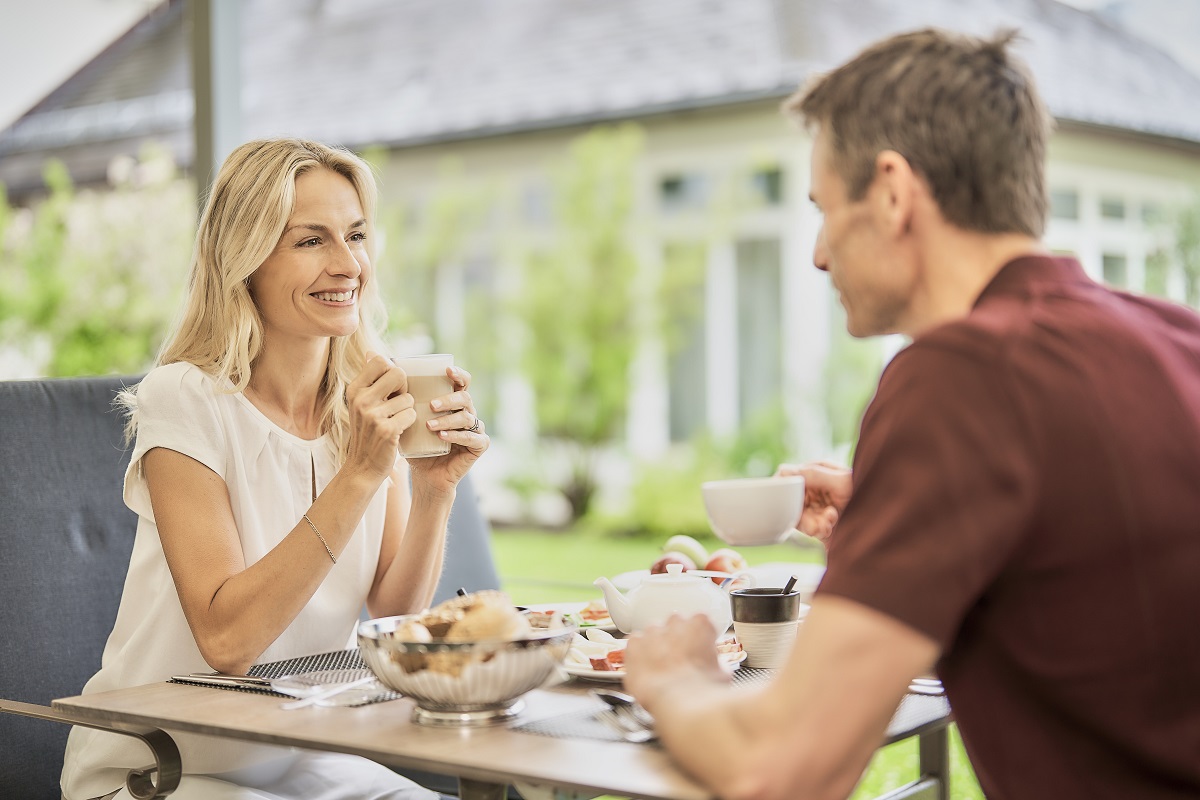 The perfect start:
Gourmet Breakfast
How about a freshly squeezed glass of orange juice for an extra portion of vitamins? A sparkling glass of Prosecco for the circulatory system? And, of course, a cup of fragrant coffee or invigorating tea, which we will be happy to bring to your table. Our breakfast buffet leaves nothing to be desired: local cheeses, a large selection of sausage and fish specialities, fresh, crispy pastries and bread, crunchy vegetables and sweet fruit. Would you like an organic egg? Whether soft-boiled, an omelette or an egg in a glass: we will cook or fry your breakfast dish freshly à la minute. And then your day can begin!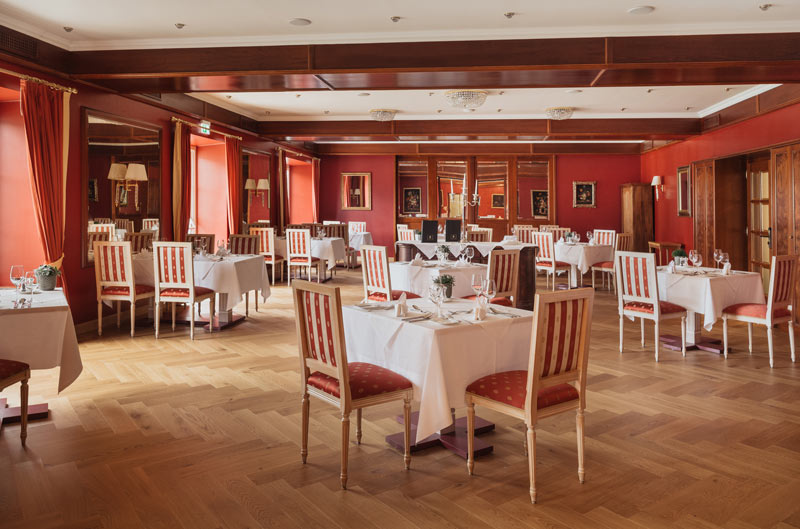 Enjoyable conclusion:
the evening 4-course menu
It finds its enjoyable conclusion with the gourmet 4-coures menu in the evening. Enjoyment is guaranteed when Austrian classics and international gourmet highlights meet Styrian delicacies interpreted in a modern way. Our gourmet 4-course menus change daily. We look forward to your reservation and to spoiling you with culinary delights soon!
Large, covered sun terrace with 400 m2 awning

Pichlarn Gourmet Breakfast daily from 7:30 a.m. – 10:30 a.m., Saturday, Sunday & public holidays 7:30 a.m. – 11:00 a.m.
Non-staying guests are also very welcome and can enjoy the Pichlarn breakfast for 28.00 € per person.

Pichlarn Culinary: evening  4-course menu
open daily from 6.00 p.m. – 10.00 p.m. (kitchen until 9:00 p.m.)
Restaurant Zirbe
à la carte Restaurant
This is where exquisite indulgence is at home!
In the à la carte Restaurant Zirbe, wich was awarded 1 toque, both the atmosphere and the cuisine are in a class of their own. Take a seat at the table. We offer you a fine aperitif to start or we'll bring you the wine list, where you will find fine wines from the region. Sit back and enjoy the charm of the room decorated in ancient timber and let us spoil you. With a warm smile, we bring home and Mediterranean-inspired dishes to your table.  For your culinary enjoyment in a class of its own!
Noble Alpine ambience

Awarded with one toque in Gault & Millau and two forks from Falstaff

Lunch menu Monday – Sunday from 12.00 p.m. – 1.30 p.m.
Dinner Monday – Sunday from 6.00 p.m. – 10.00 p.m. (kitchen until 9.00 p.m.)

Non-staying guests are also welcome by prior arrangement
Restaurant 19
Right on the golf course
A cool drink after the round of golf…
or a cosy, informal meal with the family? Both are possible at Restaurant 19! It is located directly on the golf course of the IMLAUER Hotel Schloss Pichlarn and boasts a wonderful sun terrace, many local products and warm service. Whether it's a quick espresso in between, a home-made cake with freshly brewed coffee or an Alpine ox burger with a refreshing beer: here, you can discuss your round of golf with friends in a relaxed atmosphere or discuss the highlights of your bike tour. The Restaurant 19 will again spoil you with culinary highlights from April 28. 
Also exclusively bookable for groups between 10 and 80 people

Restaurant 19 will again spoil you with culinary highlights from 28th April.
Other options for culinary enjoyment
at IMLAUER Hotel Schloss Pichlarn